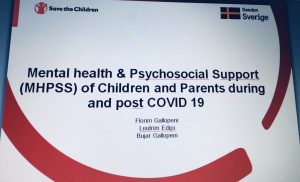 In the framework of the project " Mental health & Psychosocial Support (MHPSS) of Children and Parents during and post COVID 19 " supported by Save the Children, IREDS, on 01.11.2021, held a capacity building training to SciK and partner CSOs staff / parents / caregivers through the Sida funded project " CSO Strengjithening in Kosovo and Europe " which is being plemented in Kosovo, Serbia, Macedonia, Ukraine and Moldava.
The first part of the training, was Interactive presentation of the possible impact of pandemic COVID 19 into the Wellbeing of
Children. Whereas, in the second part it was discussed how parents support and CSO support increase wellbeing of the children's.
savethechildren #ireds #mentalhealth