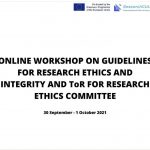 IREDS, was part of the two-day online workshop on "𝐆𝐮𝐢𝐝𝐞𝐥𝐢𝐧𝐞𝐬 𝐟𝐨𝐫 𝐫𝐞𝐬𝐞𝐚𝐫𝐜𝐡 𝐞𝐭𝐡𝐢𝐜𝐬 𝐚𝐧𝐝 𝐢𝐧𝐭𝐞𝐠𝐫𝐢𝐭𝐲 𝐚𝐧𝐝 𝐓𝐨𝐑 𝐟𝐨𝐫 𝐫𝐞𝐬𝐞𝐚𝐫𝐜𝐡 𝐞𝐭𝐡𝐢𝐜𝐬 𝐜𝐨𝐦𝐦𝐢𝐭𝐭𝐞𝐞" took place under the Work Package 4, of the project "𝐄𝐧𝐡𝐚𝐧𝐜𝐢𝐧𝐠 𝐑𝐞𝐬𝐞𝐚𝐫𝐜𝐡 𝐂𝐮𝐥𝐭𝐮𝐫𝐞 𝐢𝐧 𝐇𝐢𝐠𝐡𝐞𝐫 𝐄𝐝𝐮𝐜𝐚𝐭𝐢𝐨𝐧 𝐢𝐧 𝐊𝐨𝐬𝐨𝐯𝐨 (𝐑𝐞𝐬𝐞𝐚𝐫𝐜𝐡𝐂𝐮𝐥𝐭)" – an Erasmus+ project financed by European Union, and coordinated by the IBC-M College. The participants who were partners in the project, discussed among each other about ethics and integrity in research process, and what is the best possible way for implementing this process in Kosovo's higher education institutions.
The online workshop took place on 30 September – 1 October, therefore bringing together participants/ representatives of universities and other institutions from Kosovo, Croatia, Italy and Bulgaria. The online workshop was participated from representatives of Ministry of Education and Science from Kosovo as well. During these two days of the workshop our international partners shared their best practices on research ethics and integrity, therefore explaining the regulations and policies that they have established regarding this issue, and also explaining how the committees for research ethics within their universities work.
During the workshop, two documents were presented, which are under development with the support of the ResearchCult project:
Draft Regulation/Guideline for Research Ethics and Integrity
Draft Terms of References for Research Ethics Committees at universities
The general guideline for research ethics and integrity will provide also substantial input for preparing the legal basis at national level (administrative instruction) to be adapted by the Ministry of Education, Science, Technology and Innovation, as a main reference for supporting university efforts in this regard.
The workshop provided a good and fruitful discussion among university and Ministry participants for further defining and concluding the framework of research ethics policies and regulations.
All university partners in Kosovo as well as the representatives from MESTI highly evaluated the workshop contribution in developing and installing proper policy framework and applicable practice in the higher education and research institutions in Kosovo.